Auntie Liz Celebrates 600th Show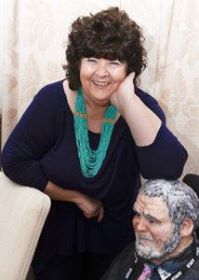 One of our longest-serving presenters reaches a broadcasting landmark today.

Liz Clark – Auntie Liz – will deliver her 600th show for the station this evening when Travels With My Auntie Liz is aired.

"It's been a steep learning curve," said Liz, who is also a Board member at the station and the Company Secretary.

"I only realised quite recently that I had presented so many shows and now I'm ready for my 600th."

Chair of the station's board of directors, Alex Jenkins, said: "This is quite a remarkable achievement and all of us at the station want to congratulate Liz and thank her for all she's done for Celtic Music Radio over the years.

"Liz is a popular broadcaster with her two shows so we look forward to her presenting many more."

Liz came into contact with Celtic Music Radio (CMR) for the first time in 2004 and then in 2006 when she was asked by Celtic Connections if she would allow the station to broadcast the Danny Kyle Open Stage (DKOS), which she and Gibb Todd had been successfully running since 1999.

She agreed wholeheartedly as it gave all the up-and-coming artists appearing on the DKOS a chance of broadcast exposure to a local or worldwide audience when no other radio station was doing so.

Liz knew Mark Sheridan, a director of CMR, presenter and lecturer at Strathclyde University, where CMR was based. They met at a friend's daughter's graduation play, where Marion Sheridan was her course tutor.

Mark suggested that, with her knowledge of the folk scene/traditional music and festivals for over 50 years, Liz should do a show at CMR – and Travels With My Auntie Liz was born.

"The name came about as the 'weans,' the young musicians, called me 'Auntie Liz,' usually when they were trying to get into the sold out Festival Club at Celtic Connections," said Liz.

"These 'young musicians' now have families of their own and many have undertaken major tours, Main Stage and Festival appearances, and released CDs while gigging here, there and everywhere."

Her position at CMR has helped Liz promote new talent, but not just through the DKOS. Pre-pandemic, she was attending 20-plus festivals a year where she could see acts performing on 'newcomer' stages, at local gigs and then she could listen further when they sent her their material.

Liz, also presents Festival Fling on Saturday afternoons, and enjoys a loyal audience.

"The best thing about Celtic Music Radio is getting the music out there, giving a much-needed platform for Scottish musicians in a way that no other station does," she said.

"I am grateful to my fellow presenters and to the listeners for supporting the station. Thanks also to the stunning local and national artists for their talent and music as it gives us the brilliant opportunity to share it all with our audience."
Travels With My Auntie Liz – Tuesday evenings 8 pm
Festival Fling – Saturday afternoons 2 pm
---