Paul Tasker – The Glad Café, Glasgow – June 23, 2022.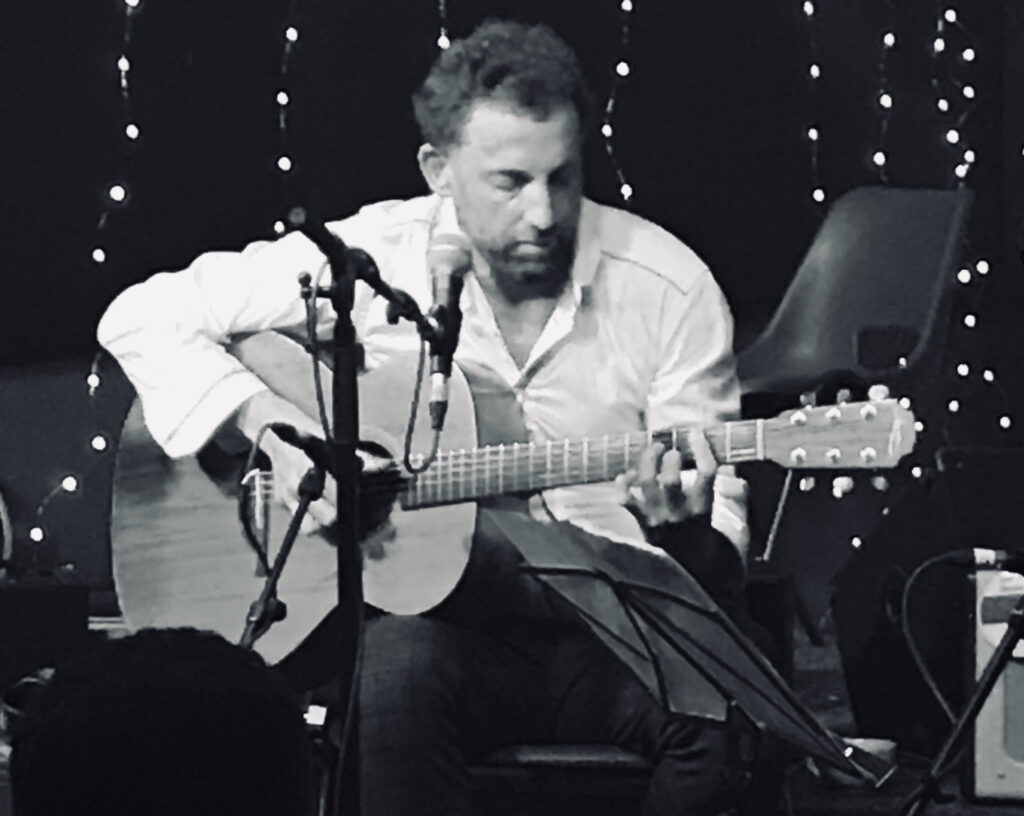 There was an inventive energy apparent throughout this absorbing gig bringing to life the recorded music of Paul Tasker's 'Tierra Quemada' album in an absorbing, stirring and vibrant fashion.

This is contemplative music subtly drawing on folk, classical, jazz and world music influences to create overall an atmosphere that is calming, delicate and as stylish as you could possibly wish.

The album – Tierra Quemada translates as 'scorched earth' in English – is Glasgow-based Paul Tasker's second instrumental release and he wrote all nine tracks playing either acoustic guitar or clawhammer banjo.

They glowed with assurance and lustre here as he and his fellow players calmly floated them in our direction to absorb and savour in a way that was impossible to resist.

Solo for the opening two offerings, Road Trippin' recalls family car journeys listening to classical music and Valve Oil, from 2016's Cold Weather Music. His playing was simply wonderful.

He was then joined by Dejan Lapanja for Womble The Sausage Dog, inspired by Tasker's neighbour's dog, who has moved to Leeds. The sympathetic mix of Tasker's banjo and Lapanja's acoustic guitar formed a delicate foot-stomper.

For the new album's title track Rik Evan's viola added a third welcome tone to the music: this composition drew up images of sitting on a Spanish veranda with Rioja in hand as night falls. Evans' viola was fragile, Lapanja's input lusty while Tasker subtly underpinned it all doubtless thinking that the recurring theme in his music of regeneration and change was no bad thing.

Pete Harvey on cello completed the group to give Firefly a marvellous warmth and rounded feel that continued into Husker's Theme from 2016, forcing Tasker to admit that he had felt real emotion playing with his chums. And no wonder.

For the deft and nicely sludgy Pink Floyd encore, Wish You Were Here, intriguing support act, solo electronic musician, Daisy Miles, joined the band, rounding off what was a flawless evening of sheer delight.

REVIEW AND IMAGES – MIKE RITCHIE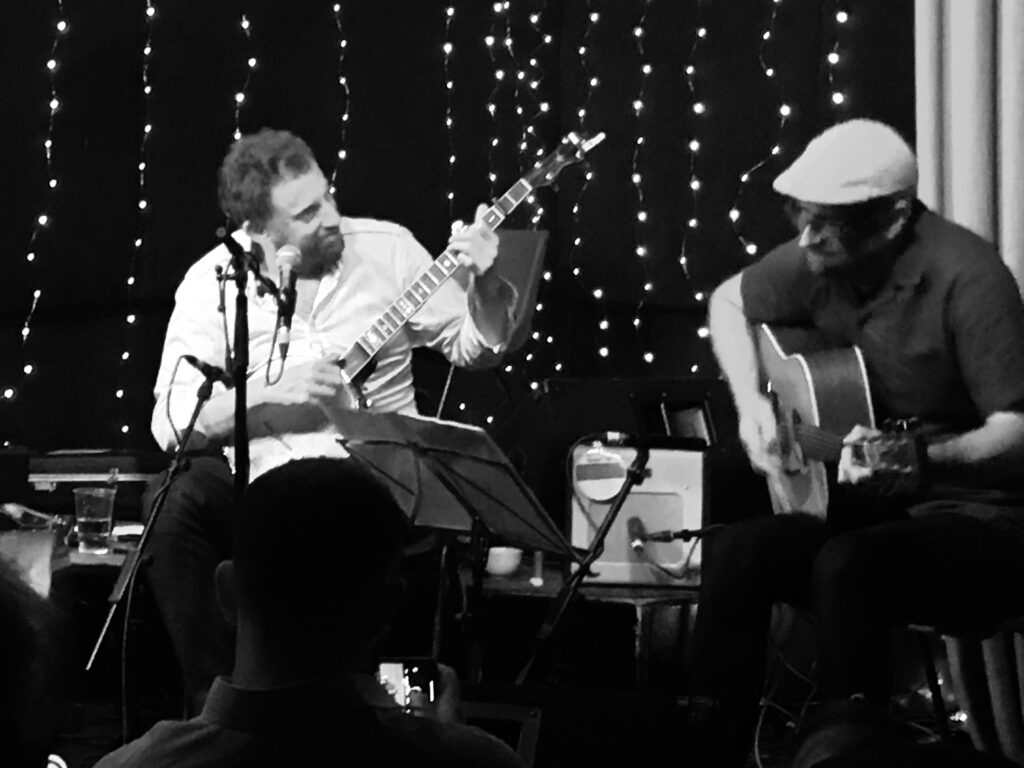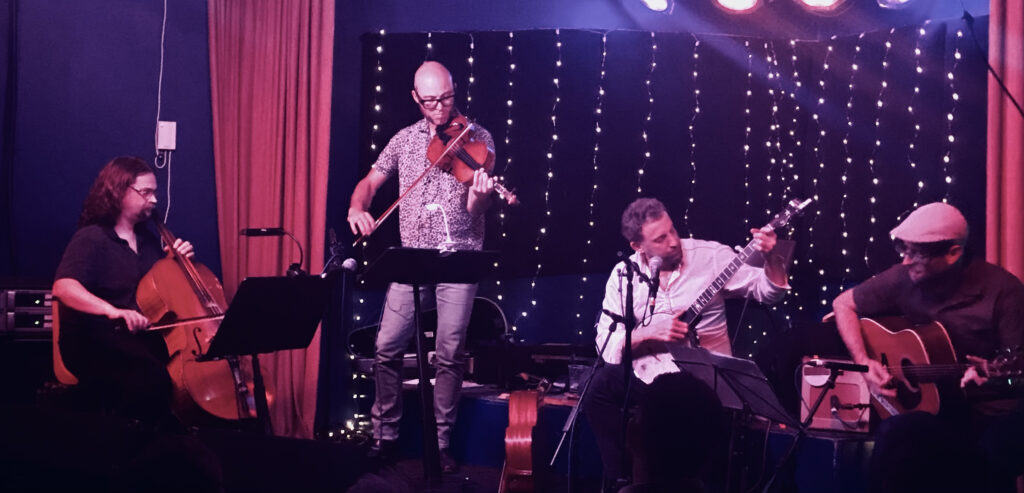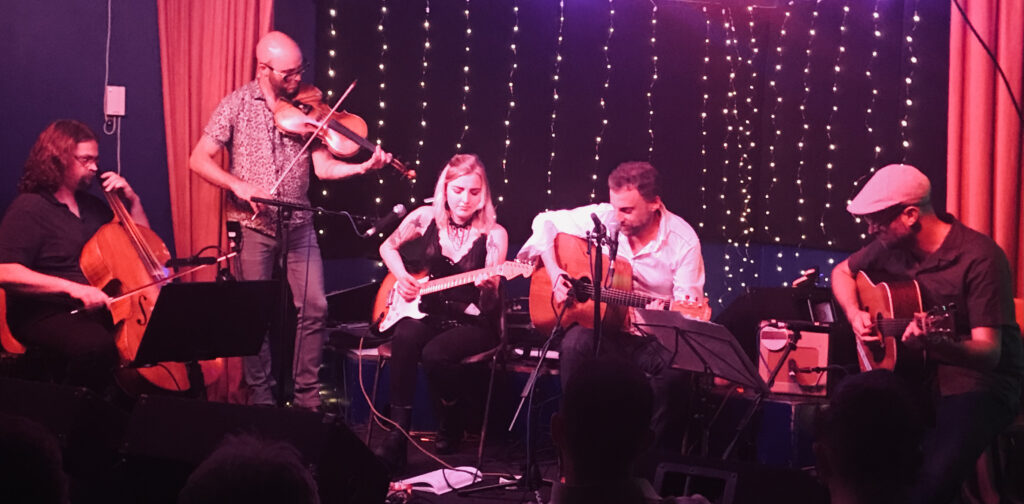 ---