Bonny Light Horseman – Celtic Connections – Saint Luke's – February 5, 2023.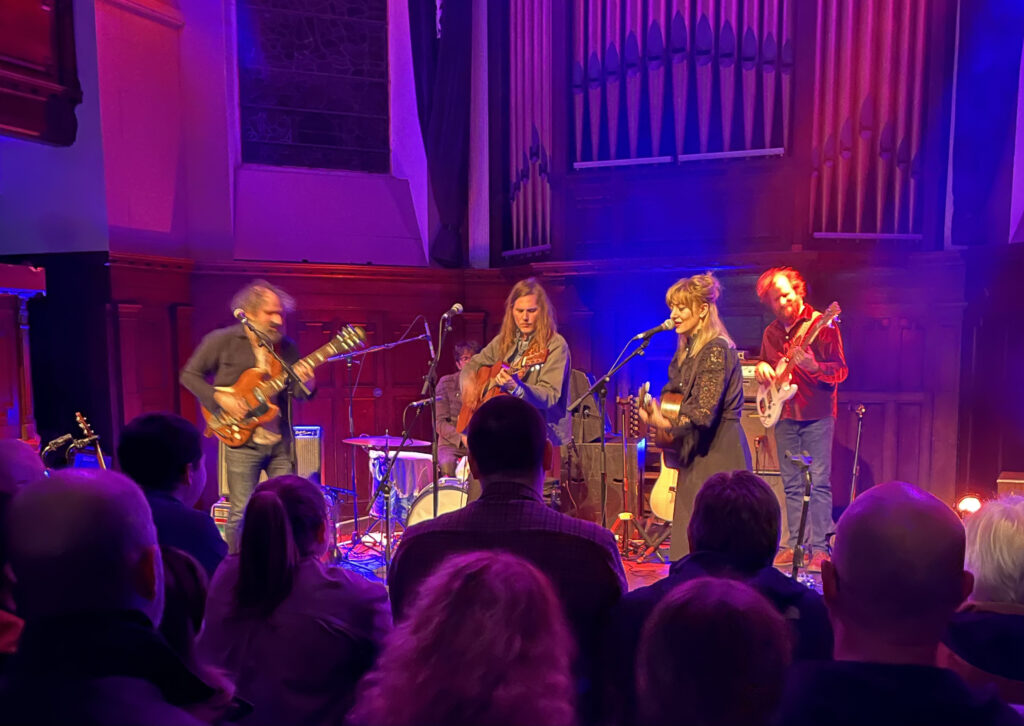 It's the second night of a sell-out tour and Bonny Light Horseman have hit town – and they are in stunning, intoxicating form.

They exude a modestly commanding approach to the set list of new songs and those they have dug out from the history books for eloquent treatment and musical care.

Upping the pace, switching the rhythms and swerving from sweet harmonies to rockier stances with uncanny ease, it makes for a potent set. Multi-Tony and Grammy Award winner, Anaïs Mitchell, Eric D Johnson and Josh Kaufman share the songs in a joyous and spirited manner that only happy-to-be-together musicians, collaborating in a nurturing fashion, can pull off.

They have us roaring in delight the minute they start with Exile, the opening track to the current album, "Rolling Golden Holy" from which we are also allowed to savour the sweet ride that is California and Fleur De Lis, where Johnson and Mitchell's vocals glide along to the exceptional Kaufman's exquisite guitar.
Someone To Weep For Me is a terrific, bittersweet and touching delight with a folk-rock hint that reminds us that this band can veer into all kinds of territory without ever losing a warming ability to hold our attention and win our sincere praise.

Mitchell has us open-mouthed with tonight's version of The Roving from their self-titled debut release as it's one of those moments, you don't want to finish, while Bonny Light Horseman (the song) is brushed with passion and tenderness.

The trio, according to Mitchell, are a 'collective musical exploration, part archaeological and part psychedelic' and tonight we cannot challenge that point of view. With Kaufman's guitar work brilliant throughout and the ability of Mitchell and Johnson to merge voices with breath-taking delicacy, this is a class, five-star act and it's been a privilege to be part of their world during their time with us.

Canadian Cat Clyde, with her "Down Rounder" album out soon, plays electric guitar confidently and sings powerfully. She's due back in the city with her band and doubtless will have persuaded some of tonight's crowd to catch her again.

MIKE RITCHIE
---