Celtic Connections On Campus – And On Celtic Music Radio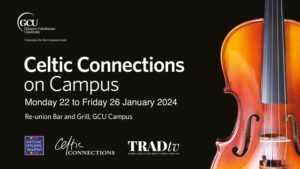 Celtic Connections on Campus – in association with and broadcast daily by Celtic Music Radio – is back for its eighth year in 2024.
And it  is on the look-out for students to perform in January..
Hosted by Glasgow Caledonian University (GCU) and TRADtv the week-long event showcases performers and talented students from across Scotland.
As these concerts are aimed to highlight the work done within education establishments, all performers ideally should be students at or recent graduates from college, University or school.
But it should be noted that students' area of study does not need to be music.
Celtic Connections on Campus is part of the international Celtic Connections Festival so the genre of acts chosen will be in keeping with it.
The concerts will run from Monday 22nd to Friday 26th January 2024 in the GCU Students Association building between 12:30 and 14:00.
There will be three/four acts performing a 20-minute set each day with sound checks in the morning of the event.
The concerts will also be streamed live on Celtic Music Radio http://www.celticmusicradio.net and on TRADtv https://www.youtube.com/c/TradTV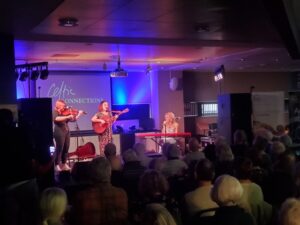 GCU asks anyone wishing to apply for a place to complete the form at: https://tinyurl.com/CCoC2024 providing a link to where your music can be heard: for example via Soundcloud, iTunes, etc. The link should include 2-3 tracks.
All applications will be listened to but places are limited. Successful applicants will be contacted by GCU.
Deadline for applications is Monday January 8th, 2024, but those seeking to perform can apply early. Successful acts will be notified by Wednesday 10th January 2024 at the latest.
Any questions before applying should be sent to Patrick Quinn – email address P.Quinn@gcu.ac.uk
---