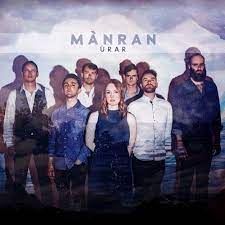 Multi award-winning Scottish supergroup Mànran "loved every minute of making" their latest album, 'Ùrar.'
And they "really hope" everyone will "enjoy it just as much."
Given the favourable reaction to it, the internationally-renowned seven-piece can deservedly relax as Ùrar – the title translates from Gaelic as "flourishing" – is receiving widespread acclaim for its carefully-crafted tracks played with trademark beauty, passion and Celtic flourish.
It seems no-one can get enough of their classic folk-rock with a Scottish twist, employing pipes on self-penned tunes instead of lead guitars.
In a class of their own, Mànran have been at the heart of the Scottish traditional music scene for over 10 year
This is their fourth album and it features the combined talents of new vocalist, Kim Carnie, and new guitarist, Aidan Moodie, who joined the ranks in 2019.
One reviewer wrote the band's traditional sound has been "pushed in a reflective and exhilarating direction" on 'Ùrar' to mark out an exciting, new chapter for this hugely respected group.
---