Nickel Creek – Celtic Connections – City Halls – January 29, 2023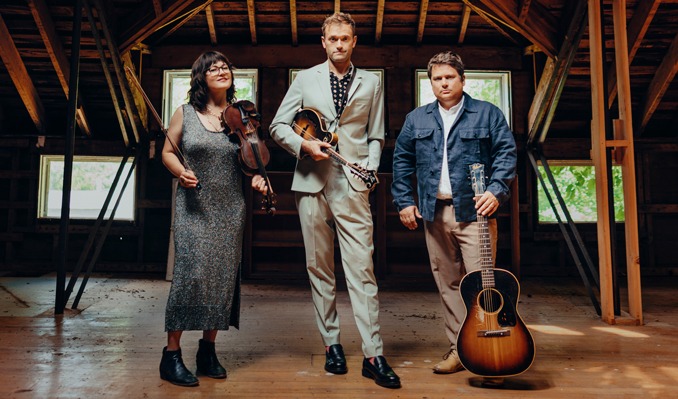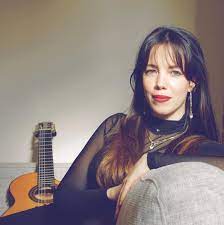 Lau Noah, a 28-year-old self-taught composer from Reus in Tarragona, Catalonia, resident in New York, is a prodigious musical talent. Her voice soars effortlessly over complex guitar arrangements that seem to speak of advanced classical guitar training. It turns out that she just picked up a guitar on a stormy night 6 years ago, decided she liked it, and taught herself to play.

Melodically and poetically, her songs follow on from singer-songwriters of the Catalan New Wave like Lluis Llach and Joan Manuel Serrat. Like them, she frequently just leaves the key behind and constructs beautiful but unexpected melodies over an accompaniment that defies conventional logic. Yet it all hangs together, and she generates a warm sympathetic rapport with her public.

Her subject matter clearly also rejects the mundane. A song introduced as Seven Tears described how she shed those tears at the break-up of a relationship, six of heartbreak, the 7th of relief. Another dealt with a New Jersey nudist beach where she goes to relax after touring. Drowned Lovers had the ocean waves, jealous of the rhythms of a maritime couple's lovemaking, try to emulate them with such enthusiasm that they sank the boat.

Her final song, Ode to Darkness, was a protest against a world filled with phone cameras that kept flashing in her face. The audience was roped into her campaign as one half of the hall was enjoined to sing "Turn off the lighthouse!" to a not-so-simple melody, while the other half sang "Blow out the fire!" Showing off unsuspected talents, the audience rose to the challenge, and, frankly, it made for a rather beautiful moment.

Nickel Creek, as seems to be a theme at Celtic Connections this year, plunged into a breakneck opening instrumental then moved into When in Rome from their 2005 release Why Should The Fire Die? Chris Thile (mandolin, vocals) joked several times through the set about audiences only wanting to hear their old favourites, and the celebratory reaction to this one rather proved his point.

Mr Thile tends to grab the eye – skinny, in a cream suit, a good bit taller than bandmates Sara (fiddle) and Sean Watkins (guitar), and apparently made of rubber, he danced around the stage all night constantly exchanging wisecracks with the Watkins siblings and the folks out front. At times his dancing looked like a slow-motion drunk backing out of a barfight, at others he seemed to be demonstrating where the Soggy Bottom Boys in the Coen Brothers' Oh, Brother, Where Art Thou? derived their onstage choreography. Despite playing an instrument that requires very careful finger placement, he danced all night and never missed a beat or a note. He was obviously having great fun, and so were we.
The venue seemed packed with long-term Nickel Creek fans as a cheer of recognition went up when Sean Watkins began to sing the title track from their 2002 release This Side. Other old favourites were dusted off to great acclaim, including a superb take on The Lighthouse's Tale from their Alison Krauss produced breakthrough album. At the end of the song, you could have heard a pin drop for about 5 seconds before the hall erupted.

The inspiration behind their instrumental titled Scotch and Chocolate was explained by the tune being composed by candlelight in their house in Laurel Canyon back in 2005 when those two items were all that remained in their larder.
Nickel Creek have often been referred to as a "newgrass band", implying a basically bluegrass approach while incorporating a few fusion elements. A new designation will have to be coined on the basis of this performance. The bluegrass base was still there, but many of the songs veered wildly away – particularly during the instrumental breaks which went places that recalled avant-garde composers and Jimi Hendrix, and some of the harmony arrangements wouldn't have been out of place on the Beach Boys' Pet Sounds.
Instrumentally, the band were faultless. While Chris Thile and Sara Watkins predominantly took the instrumental leads with mandolin and fiddle solos that would make many a trad musician curl up in envy, every so often Sean Watkins would shed his unassuming air and generate a blisteringly fast but melodic series of notes that made you double-check the number of fingers he had. These are seriously good musicians.

Highlights of the show for me were their performance of Tim O'Brien's When You Come Back Down; a truly lovely close harmony arrangement of Andy Irvine's Sabra Girl; and, a particular favourite, the traditional children's ballad The Fox. In a classic demonstration of how to work an audience, their final encore saw them unplug their instruments, step away from the mics, and, to a hushed hall, sing their own arrangement of Robert Burns' Sweet Afton. Hard to imagine a more perfect evening.
Bob Leslie
---