Le Vent du Nord – Celtic Connections – The Old Fruit Market – January 28, 2023.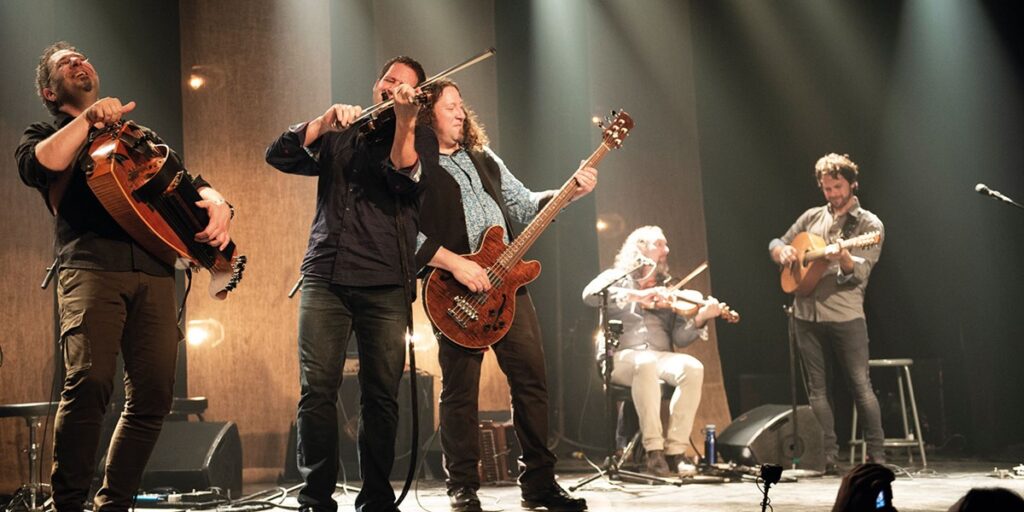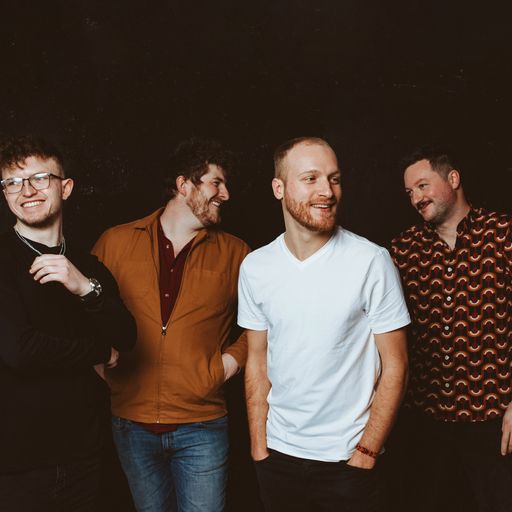 The fun began with an energy-charged set from DALLAHAN – Jack Badcock (guitar and vocals); Ciaran Ryan (banjo, mandolin and fiddle); Andrew Waite (accordion) and Benedict Morris (fiddle).

They opened with a hundred-mile-an-hour reel before seguéing into a mixture of songs and tunes from their forthcoming album "Anchor." The melodic Durbar Square was written as a very listenable souvenir of their performances, as part of a British Council engagement in Kathmandu, Nepal, while The Picture on the Wall, provided a nice contrast from the break-neck instrumental numbers and featured some fine singing from Badcock.

They finished their set with the optimistically-titled Beacons of Hope and were given a rousing ovation by a now well-warmed-up Fruitmarket audience.

"Le Vent du Nord plus Guests" stated the bannerline and guests aplenty there were to help them celebrate their 20th anniversary as a band and the album, "20 Printemps (20 Springs)," issued to coincide with the celebrations.

I counted no fewer than 19 people onstage and not just separate artists doing solo spots either: this was a fully integrated, well-rehearsed band playing together as if they'd all been involved in the 20-year history.

Gaelic chanteuse, Julie Fowlis was there, along with Scots contemporary folk band Breabach, veteran Québecois singer, André Marchand and a brass quintet who really added plenty of oomph to the show.

They opened with a foot-stomping reel that certainly showed the benefits of having a brass section – I imagined a lot of trad players in the crowd considering adding a trombone or two to fatten up their sound.

Since they have an anniversary album out, most of the evening's material came from that. 20 Printemps contains no fillers, every song is a gem. Standouts were their enthusiastic ode to maple syrup brandy, L'eau de vie de l'arbre, their invocation of the shared heritage deriving from the early French settlers and the people of the First Nations, Ameriquois, and, reverting to the drinking theme, their song of convivial evenings at the inn, L'auberge.

That last one provided a goodly portion of the comedic highlights that typify a Vent du Nord concert. The band armed themselves with (large) glasses of red wine and stopped between verses to toast the crowd and take a healthy swallow. The song was performed a cappella in close harmony somewhat in the style of a barber-shop quartet behind the lead vocals, while increasing intoxication was comically feigned behind the singer's back.
On several occasions, the audience was urged to participate in the choruses. If they weren't picking up the language, they were urged to sing in "International French" which is, "Lah, lah, lah." One chorus that got a particularly good pick-up from the crowd was that of Ma Louise – even the worst failures at school français could get behind "au revoir, ma Louise, au revoir."

While everyone on stage was effectively part of the band, there were a couple of wee party-pieces that were a real treat: André Marchand took lead vocals on what, as far as I could make out, was a high-spirited French cousin of Old MacDonald Had a Farm; and Breabach's Megan Henderson did some excellent step-dancing during one of the two encore sets.

By the end of a thoroughly enjoyable concert, my ears were ringing as much from the crowd's foot stomping and handclapping plaudits as from the 19-piece band. Truly, a wonderful evening.
Bob Leslie
---