Aiofe O'Donovan – Celtic Connections – CCA – January 31, 2023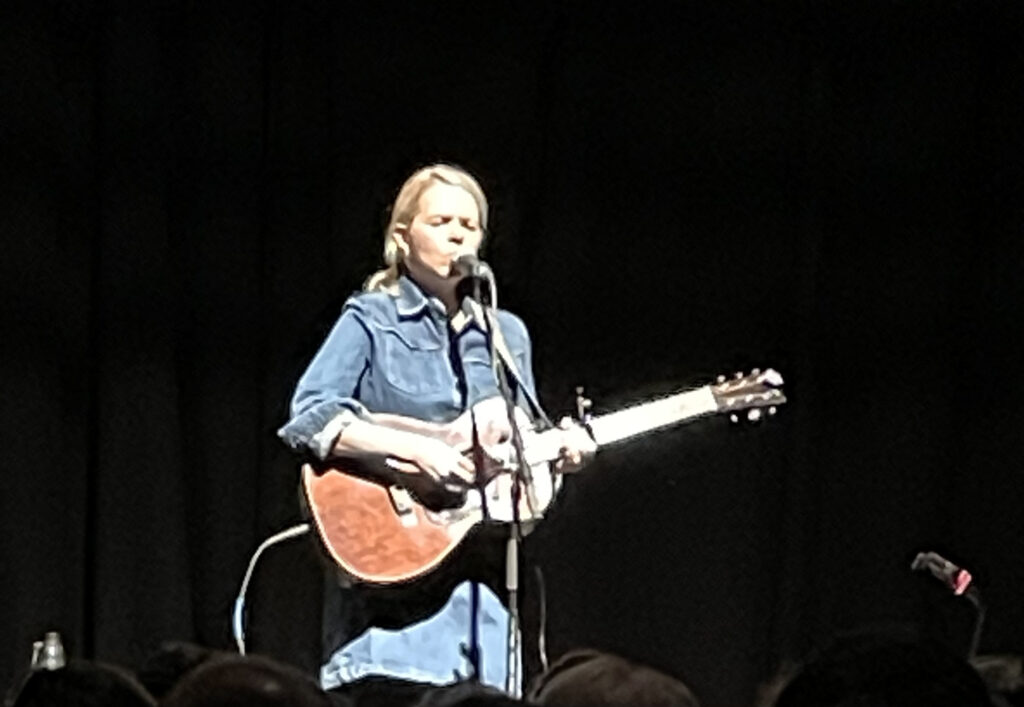 The haunting darkness, the taut lyrics for a cast list of characters including serial killers and dodgy law enforcement officers plus doleful songs with wayward, mixed-up souls make "Nebraska" the powerful and wonderful Bruce Springsteen album that it is.

Released on the final day of September 1982 it is well documented how he recorded the songs on a four-track cassette, tried to have the E Street band work them up into fuller versions but decided in the end that the bedroom recordings would be, after all, his sixth studio release.

He never toured the album and I bet he never imagined that it would thrill an audience on a grim, wet Glasgow night, thanks to Grammy Award-winning songwriter and fellow American, Aiofe O'Donovan who – like Bruce – started on her version of Nebraska at home, too.

With a cheeky giggle, she reminds us at the outset that she is doing something that Bruce never has – and that's play the CCA.

In this quite superb performance, Aiofe's delivery is less gruff and the lightness of her vocals allows the dynamism of The Boss's words to shine and enthral.

She has the ability and a songwriter's intuition to allow the material to unfold and flow elegantly as if she knows the songs need to be absorbed and admired. The writing is of the highest calibre and on Reason To Believe she is at her delicate best, nudging the verses carefully in our direction to be nurtured.

State Trooper – menacingly rugged by Bruce – is gracefully sung and Aiofe allows herself the one 'whoop' during it. The full-house – including her parents – is captivated by her singing and hushed by her boldness in taking on such a challenge. The songs are unflinching in content and she glides through them, cherishing them and makes them her own for the time she's on stage.

This is an album we have listened to many times over the past 40 years and rate among Springsteen's best alongside, The Ghost Of Tom Joad. Undoubtedly, Aiofe will be in our minds when we re-visit it.

With the glorious Prodigal Daughter – a co-write with Tim O'Brien – from her current release "Age of Apathy' as part of her encore, she whets the appetite for those with tickets for a second consecutive night in the city.

MIKE RITCHIE
---