Rachel Walker and Aaron Jones on The Bothy Society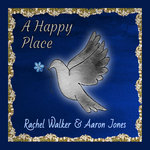 SCOTTISH singers Rachel Walker and Aaron Jones are this weekend's guests on The Bothy Society.
They will be talking about their new, five-track charity EP, A Happy Place, one year on from Rachel being diagnosed with breast cancer.

The duo hope that the music will help people talk about cancer and the support that's available, while raising some valuable funds for the Maggie's Highland Centre in Inverness, which, Rachel says, was "there for her every step of the way."

Rachel and multi-instrumentalist, Aaron have created a collection of uplifting songs chosen specifically for their ability to invoke a spirit of hopefulness.

The EP title itself is a reference to the healing power of music and the relief and joy of escaping cancer.

Along with a selection of traditional Scottish Gaelic tracks, the EP includes a brand-new English composition, Song of Hope, a Rachel and Aaron co-write. It is directly inspired by Rachel's personal experience of living with cancer and the support she received from Maggie's while undergoing treatment.

Writing songs during the pandemic will also be discussed.

Rachel Walker and Aaron Jones – The Bothy Society from 8 pm on Saturday, February 26.
A Happy Place, available on BandCamp, will raise funds for Maggie's.

---