Skyrie is a band that knows how to bring the party wherever they go. Comprised of Lesley Thompson Smith on fiddle and whistle, Jimmy Anderson on guitar and bass, and Chris Smith on drums and bodhran, this talented trio has been wowing audiences with their unique blend of traditional and modern music.
Hailing from the picturesque town of St Andrews, Scotland, Skyrie has not only gained a loyal following in their home country but has also traveled the world, captivating audiences wherever they perform. Their music is a vibrant fusion of genres, drawing inspiration from traditional Celtic tunes, but also incorporating elements of rock, folk, and even funk.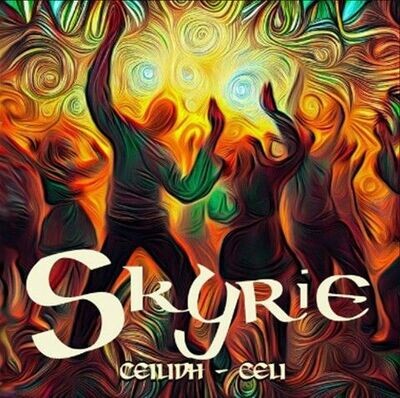 One of the band's specialties is their ability to create an energetic and dynamic atmosphere for traditional Scottish ceilidh dances. They have meticulously crafted their performance sets to not only make the audience want to dance but also keep them engaged with lively tunes in between the dances. Their ceilidh sound is truly something to behold, filled with rich layers of texture and pulsating rhythm.
Skyrie is no stranger to the stage, performing several times a week all across Scotland. They have also had the opportunity to showcase their talents in some unique and exciting settings. From playing for the British and US Ambassadors in Kuwait, to entertaining the Royal Airforce in Akrotiri, Cyprus, the band has proven their ability to captivate audiences in diverse cultural settings. One of their most memorable performances took place in Budapest, where they played for members of the business community. Their music transcended language barriers and brought people together in celebration. Another standout moment was their performance in Dundee City Square for the Christmas Hooley, where 5000 ceilidh dancers joined in the festivities.
The band's dedication to their craft and their infectious enthusiasm have earned them a dedicated following, particularly among the student population in St Andrews. Their passion for music shines through in every note they play, and their ability to create an atmosphere of pure joy and celebration is unparalleled.
With their album Ceilidh-Celi, Skyrie showcases their signature ceilidh sound, capturing the essence of their live performances. The album is a testament to their skill and creativity, and serves as a reminder of why this band continues to be in high demand.  Whether they are playing in a small pub or on a grand stage, Skyrie brings an infectious energy and a sense of fun to every performance. Their music has the power to transport listeners to another time and place, and their passion for traditional music is evident in every note they play. If you ever have the chance to experience a Skyrie performance, don't miss out – it's a party you won't want to end.

Buy The CD
---