Sounds Celtic With Moira Kerr – And Special Guest Watt Nicol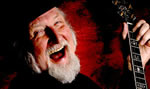 Renowned folk singer, songwriter, scriptwriter and motivational speaker Watt Nicol is Moira Kerr's guest on her Saturday show that starts at 10 a.m.

Watt, now in his 80s, is still performing and giving ukulele lessons.

A major part of the Sixties Scottish Folk Revival Watt is first to admit he was much more of a storyteller and song writer than a vocalist.

He recorded twelve albums of his own songs for the Transatlantic label and penned material for others including Hamish Imlach, The Corries and more.

He also hosted TV and radio shows.

His chat with Moira is bound to be lively, interesting and hugely entertaining.
• SOUNDS CELTIC WITH MOIRA KERR, EVERY SATURDAY AT 10 A.M.

---