Martha Spencer and Archer – Bluegrass Beats Guests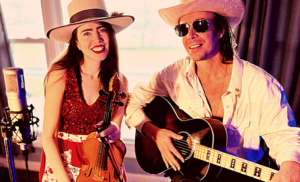 Martha Spencer & Archer
Bluegrass Beats hosts, Louise and Alan Mairs, will welcome Martha Spencer And Archer as guests on the show this weekend (Saturday 30th September).
The duo from the United States have not performed together previously in the UK.
Martha is a singer-songwriter, mountain musician and dancer from the Blue Ridge Mountains of Virginia, who has performed extensively across the USA and internationally. Her solo albums have featured in articles in Rolling Stone Country, Americana Highways and she has been in articles in NY Times and Billboard.
Archer, born in North Carolina and raised in Australia, says he continues performing music because he's hoping it will inspire or create something special for people's souls.
• THE BLUEGRASS BEATS SHOW – WITH LOUISE AND ALAN MAIRS AND SPECIAL GUESTS –  MARTHA SPENCER and ARCHER – SATURDAY, SEPTEMBER 30 – 8 pm to 10 pm.
---