Top Nashville Musician – Ethan Ballinger – Guests on Bluegrass Beats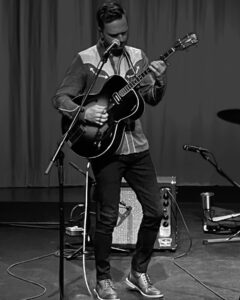 Ethan Ballinger
Multi-instrumentalist, producer, composer, and solo artist, Ethan Ballinger is the guest artist for The Bluegrass Beats show with Louise and Alan Mairs this Saturday (September 2).
From Nashville, Tennessee, Ethan was nominated for the Instrumentalist of The Year at the 2022 Americana Music Awards.
He is an in-demand musician having toured full-time as guitar player for Miranda Lambert and Lee Ann Womack, as well as performing on studio recordings with Willie Nelson, Alison Krauss, Leon Bridges, Chris Isaak and Tim O'Brien.
As a producer, he has recorded with Amythyst Kiah, Jackson+Sellers, Sam Lewis and Missy Raines.
He has also composed original music for TV and film, including the Emmy award-winning PBS documentary, "Crank: Darkness On The Edge of Town."
His four solo albums feature his own original material, which spans from instrumental bluegrass to psychedelic garage rock.
•. THE BLUEGRASS BEATS SHOW – WITH LOUISE AND ALAN MAIRS – AND SPECIAL GUEST ETHAN BALLINGER – SATURDAY, 2ND SEPTEMBER – 8 pm to 10 pm.
---