BASHED POTATOES ON BLUEGRASS BEATS SHOW MENU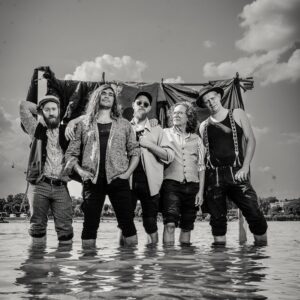 BASHED POTATOES
Bluegrass Beats hosts Louise and Alan Mairs have the German five-piece BASHED POTATOES as guests on the show this weekend (Saturday 7th October).
The Germany-based band got together in 2015 and their blend of hot solos, tight vocal harmonies and in-the-pocket grooves is gathering attention.
They share a love for the acoustic music traditions of the American south though they come from jazz, folk, rock, classic and baroque music backgrounds.
Traditional songs filled with spirituality, desire and loss, plus Newgrass ones on contemporary themes as well as hard-driving instrumentals and original pieces fill Bashed Potatoes' performances.
They will be chatting with Louise and Alan tomorrow on Bluegrass Beats from 8 pm.
https://www.bashedpotatoes.de/
•. THE BLUEGRASS BEATS SHOW – WITH LOUISE AND ALAN MAIRS – AND SPECIAL GUESTS BASHED POTATOES – SATURDAY, OCTOBER 7 – 8  to 10 PM.
---