Celtic Music Radio is a community radio station broadcasting to Greater
Glasgow and around the world.
Run by music-loving volunteers broadcasting round-the-clock we are
now looking for others to join us.
We are pleased to say we currently have volunteering opportunities in
the following areas:
Sales and advertising
Marketing
Technical support*
Studio editing
Cataloguing and archiving
Presentation
*Knowledge of Myriad would be desirable but training is available.
Do you have a love of music?
Are you interested in supporting community-based projects?
Would you like to work alongside a team of incredible volunteers with a range of diverse skills and experiences?
Are you able to contribute some of your time to any of the opportunities listed?
If the answers to the questions above are yes – we would love to hear
from you.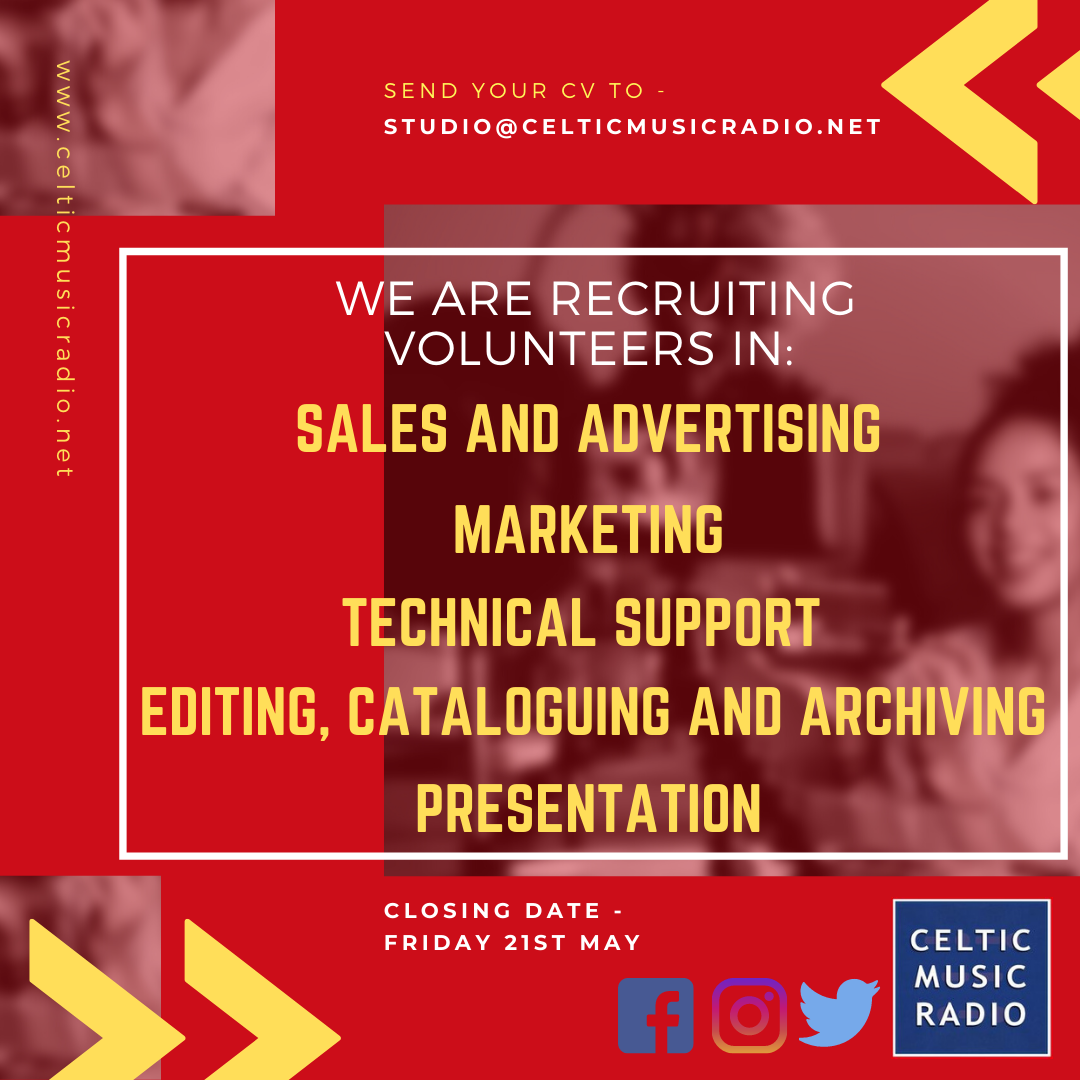 Please send a current and up-to-date CV (which should include
references) with a covering email stating your area(s) of interest
to studio@celticmusicradio.net., by Friday 21st May.
We would be pleased to tell you more about an established station
whose programmes – award winners among them – feature the widest
range of Celtic, traditional and contemporary music as well as folk, roots,
Americana and world music. And we support up-and-coming acts as
best we can with our presenters always on the look-out for something
new to share.
Enjoying strong links to Scottish culture and arts, we work closely with
prestigious music and arts festivals to provide first-class programmes.
With over 73,000 listeners a month from over 133 countries, our
listeners are diverse and loyal – from the Glasgow area on 95FM and
DAB Digital Radio, online worldwide on our website and mobile apps,
such as RadioPlayer and TuneIn.
We have charitable status and manage to stay on air through volunteer
and public donations, fund raisers and some on-air advertising and
sponsorship.
So why not give it a thought and get in touch – you would be made most
welcome.
---