Album Of The Week – Ingrid Henderson 'Message in a Bottle'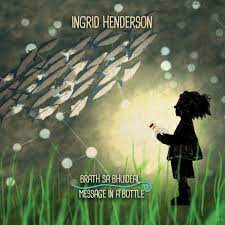 This captivating album by Glenfinnan-based harpist, Ingrid Henderson, is an absorbing musical exploration of ocean currents, migration and environmental impact while celebrating our incredible marine life, and strong cultural connections.
The romantic notion of casting a message into the ocean and allowing fate, the currents, wind and nature to guide the journey and decide its final destination, was the catalyst for this music that's delivered with warmth and grace.
Sterling performances that embellish Ingrid's beautiful harp and piano playing are provided by Anna Massie on guitars and fiddle, Megan Henderson on fiddle, vocals and piano, and Conal McDonagh on Irish pipes and whistle.
An audio-visual project commissioned by NatureScot for the Year of Coast and Waters lies at the heart of Ingrid's first solo release in 16 years.
The album comes in a lovely six-page folding digisleeve with a 16-page booklet, which has beautiful artwork and bilingual information about each track and the inspiration behind it.
Rarely has Scotland's incredible coastline and marine life been celebrated so thoughtfully through new music and song.
---