Award-Winning Musician Is New Station Presenter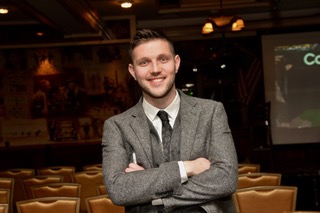 Multi award-winning international musician, Colm Keegan is joining Celtic Music Radio as a presenter.

Dubliner Colm's first, hour-long show will be broadcast on Saturday, March 20 at 1 pm.

He is best known as one of the principal singers with PBS sensation show, Celtic Thunder, his career having started as a four-year-old chorister in Dublin's Palestrina Choir before he went on to win several highly acclaimed Feis Ceoil competitions.

Colm has toured the world and has played in some of the biggest theatres in the US, including Radio City Hall, The Greek Theatre as well as at The Pentagon, as a performer in a private audience.

His debut solo album "I'll Never Be Alone" went to #1 on world iTunes and Billboard charts.

He has also toured with his wife Glasgow cellist, Laura Durrant, headlining many Irish Fests across the US and the duo continue to promote Celtic culture through performance, online teaching of Irish Language and History, lectures and radio work.

"I am so pleased to be joining the excellent team of presenters at Celtic Music Radio and looking forward very much to my Saturday shows," said Colm.

"Celtic Music Radio is such a staunch supporter of the music and culture I love, so this is a great opportunity for me to be involved and play my favourite music."

• Colm Keegan, Saturday 1 – 2 pm.
---