Sierra Hull & Justin Moses – Celtic Connections – January 20, 2023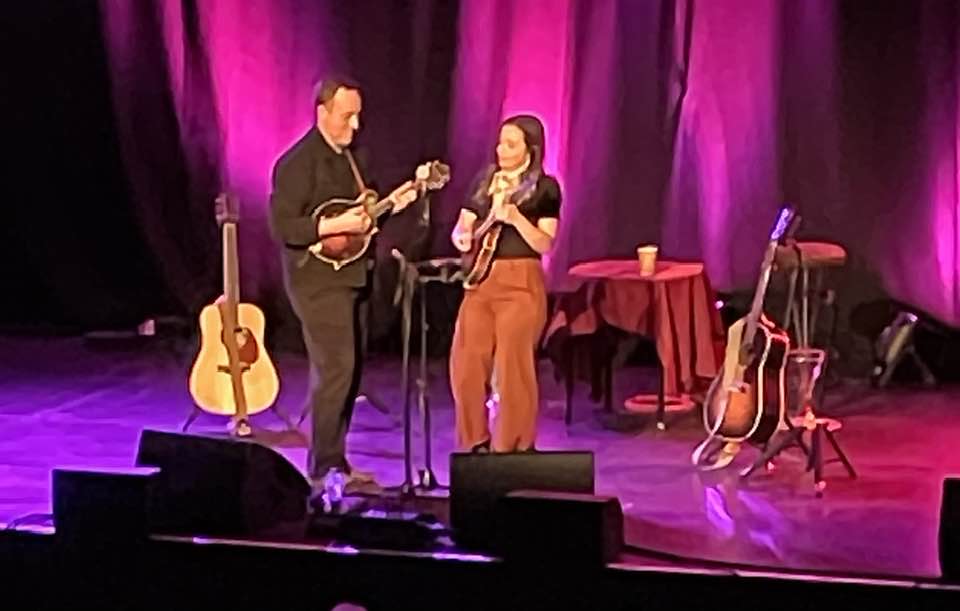 There is not a single moment in this flawless gig involving three high-calibre multi-instrumentalists that ever dips below the level of scintillating.
Headliners, award-winning married couple, Sierra Hull (on her third visit to the city) and Justin Moses (making his debut here) play with a flow and intensity that quickly convinces us their love of the music they create is deep and boundless. Hence, their brilliance here at a packed Strathclyde Suite in Glasgow Royal Concert Hall.
The gloriously wide-ranging repertoire is a whistlestop tour through a hinterland where bluegrass and country strummers are caressed by their exhilarating mandolin and guitar playing.
At high speed, or during more sedate moments, flamboyance is never in the mix. Instead, they embrace instrumental tracks like "Coldplay" – a Justin composition – and "Cattle In the Cane, telepathically and playfully. These carefully-crafted gems effortlessly dip and weave, and entrance.
From Sierra's latest release, 25 Trips, "Ceiling To The Floor" recalls childhood memories in a gentle, slow-paced huddle while "How Long" yields a moody swirl to make it simply gorgeous. Legends like Ralph Stanley and Doc Watson are mentioned with awe and intense appreciation, and their treatment of the latter's "Walk On Boy" is inspired, where delicate picking and sweet vocals roll gleefully into something Sierra and Jason clearly cherish.
Larry Sparks' "Taking A Slow Train" early in the 75-minute set is another moment where the Tennesseans show how much they respect and thrive on music's heartlands by bringing it right up to date with playing that's stunning and distinctive.
Switching from guitar to banjo, or to the fiddle, Nashville-based, Rachel Baiman is a marvellous support, a compelling musician, stirring songwriter and fine vocalist.
These talents flourish on the title track from her next album, "Some Strange Notion," which is a persuasive protest song looking askance at her homeland.
A lovely tale about her sister leaving her behind in Music City to head off to sample rock climbing in Colorado precedes "When You Bloom" from her 2021 album Cycles. It's absolutely unforgettable and the heartfelt closing lines gives an insight into the siblings' relationship: 'You don't really understand my music / I never understood why you climb walls / But you still come out to see me play / And you know I'll catch you if ever you fall.'
Rachel's touring the UK in March with her band – so not planning to miss that Glasgow date.
MIKE RITCHIE
---