Malcolm Holcombe – Tricks Of The Trade
The joys delivered by Malcolm Holcombe's latest release, Tricks of the Trade, cannot be over-praised – quite simply it is glorious, rugged, ragged, drawling, dusty and moving, the shiniest gem of a record.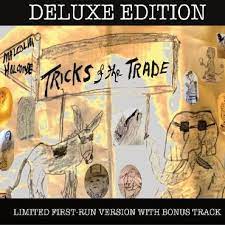 Listening to the man from North Carolina serve up alluring gritty and earthy songs is one of life's great musical delights. His tales are dragged up by their roots from who knows where, unfold determinedly, all stimulated by his familiar jagged vocals where final letters in words at the end of lines come out in an exaggerated form.

Subtly stirring guitar work and deft arrangements create a sound that hovers over the listener while highlighting the talents of his long- time compadres, Jared Tyler and Dave Roe, whose Seven Deadly Sins Studios in Nashville was where the record was made. Mary Gauthier and Jaimee Harris add vocals on quite a few tracks, upping the quality a notch or two,too.

Money Train, sounding like a finger-flexing, warm-up session, gets this follow-up to 2018's Hell Or High Water release under way with the jaunty country bump of Misery Loves Company hard on its heels and the tight bite of Into The Sunshine, completing the opening trio. But you don't get to draw breath on the brilliance.

The musical rumbling helps the dirt-tinged singing as he gets his blood up for Your Kin with unequivocal views on US Border separations of desperate families: 'Sweet dreams they don't mean a thing / A dictator for a president / and the cops take away your children / the cops take away your kin.' The polemic is as sharp as barbed wire fencing.

On Tennessee Land troubled lives are addressed again and the finger is pointed without any sugar-coating to those Holcombe considers guilty: "Ain't nothing good to say / about a politician's plan / when a family goes hungry / on Tennessee land."

The title track is overrun delightfully with muscled and nimble playing and Holcombe directs it all with a glint and sublime, colourful storytelling: "The devils in a top hat / moustache coat and tails / the elephants and donkeys / strutting tricks of the trade."

Shaky Ground rounds things off in superb style; a hill country melody with slivers of guitar and chunky drums – it should be made compulsory for radio station playlists.

Holcombe has been quoted as follows: "Songs mean different things to each person. The songs are written and come to life over time. A different one for each listener. People bring songs to life."

But few can write or perform them so heartily or compellingly as him.
MIKE RITCHIE
---